Our second day in Paris was an amazing day of food. Our meals were slow paced and rich, but I never felt overstuffed. The French are doing something right!
Breakfast was croissants from the patisserie down the street, coffee and Mirabelle plums from a fruit stand Rich found. Breakfast was relaxing, satisfying and delicious. We enjoyed having our meals in our apartment with all the windows open while listening to the sounds of Paris outside our window. 
Before we headed out the day, I had a coconut Blanc Manger, which is basically gelatin made with creme and natural flavoring. It was delicious and filled me up until lunch time. After breakfast, we walked around the Latin Quarter and hopped on the Metro and found a cafe near the meeting point for our bike tour.
We loved having traditional French lunches both days so far and the cafe we found had delicious specials. I had the steak and mashed potatoes special and Rich had the beef tartare. Two glasses of house wine each were enjoyed with our meals. You can't beat three Euros for a glass of good wine!
I could not pass up dessert, so we split  a creme brûlée and each had an espresso as we people watched for an hour or so. This was one of my favorite things during our trip- long, leisurely meals in little cafes on the street.
Our afternoon was spent on a four hour Paris landmark tour, which covered 12 miles of Paris and hit all the major stops. It was amazing!
After our tour and walking around for another two or three miles exploring our neighbor, we stopped again for a baguette and wine. This was our tradition- wine and cheese plates by our kitchen window sitting for hours listening to the sounds of Paris while enjoying having no place to be. Something I could get used to at home.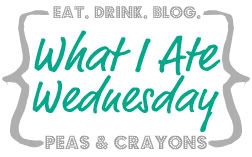 As always, thanks Jenn for the weekly link-up!