First of all, thanks so much for all the well wishes!
This week has been quite a whirlwind! On Monday, I went back to the doctor after a painful weekend got prescribed new pain medications and steroids. After three days, I'm feeling much better than before and am hopeful by the time I finish my steroids on Saturday, I'll be back to 100%!
The major side effect of my steroids is that it makes me majorly flushed (top left). This week has been filled with a lot of comfort food as I've been cooped up at home. Over the weekend, I made myself some comfort chocolate chip cookies (top right). I've drank at least three cups of tea per day. My favorite this week has been Tazo's Calm tea. (second from the top) Also, tons and tons of water because my medication makes me very thirsty. (third from top) I'm very thankful that Rich did some food prep for us on Sunday and had made an oatmeal bake from my go-to recipe. (bottom corner) It's been so nice to warm some up every morning. Sunday night, we made steak fajitas (third from left) and watched the Super Bowl. (until I feel asleep at 9:00pm) On Monday night, I used the leftover steak to make an easy steak Cesar salad for us for dinner. (second from left) Tonight, I went in to total nesting mode and made Pioneer Woman's favorite meatloaf and crash hot potatoes. (bottom left) The meal took less than an hour to prepare and was exactly what the doctor ordered.
More updates from me tomorrow! Thanks again for all the well issues!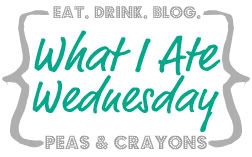 And as always, thanks Jenn for the link up!